Recycled Wooden Pallet Giant Bed Frame with Storage
Only the impressive items can make a home look impressive, it is difficult to get the furniture of unique style from the market to make the home give a different look because every other person can get it easily. So, it is a good idea to see the styles on the internet and copy them by arranging the wood pallet. The pallets also give inexpensive furniture and the decorative items, so here is a great idea for recycled wood pallet giant bed frame with storage that will make the room look awesome.
Have a look at the giant bed frame, the headboard of the bed is created with a unique idea that is making the area outstanding. The kids will love this idea because it resembles the fantasy world shown in the cartoons. It is not hectic to copy because the pallets can be easily modified.

See the reclaimed wood pallet giant bed frame from one side, the pallets are not painted but they are still looking great. No one can judge the bed contains the storage space, the storage space added to this idea makes this an innovative idea for creating a bed.

Here you can see the drawers which are huge and the whole bed has the storage space beneath it, there are 4 drawers; 2 on each side which covers the whole area of the bed under it. The blankets and the bed sheets can be placed inside the drawers to keep them near the bed.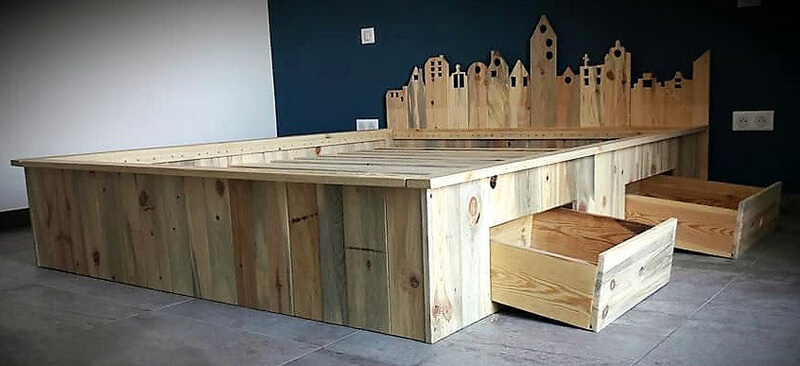 The bed is not painted and it is looking nice with the dark colored walls, the pallets can be painted with any light color as well to make it attractive and look like a castle shown in the cartoons. Copy this idea of repurposed wood pallet bed for your kids' room and they will love it for sure.

Created & Shared by: Ethik Wood