Recycled Pallet Cable Reel Patio Furniture
It is up to the homeowner that which ideas he/she goes for and which material he/she uses to decorate the lawn or patio of the home, but the ideas for the recycled pallet furniture are the best because the pallets are available at low rate and the furniture made up of wooden pallets is rarely seen. The idea of patio furniture made with recycled pallet cable reel is amazing because it is not common, so it is a perfect idea to cop prior to anyone else copies it and makes the patio impressive by placing it for fulfilling the need of seating.
You can see, the reclaimed wood pallet patio furniture is just like the cable reel which is round in shape and the best thing about it is that it offers seating for many individuals at the same time. It can be used for the dining purpose or can be used for playing the games placing the board on it.
If you have done anything else using the pallets as well, then the collected remains of the wood pallets can also be used in making the cable reel patio furniture because the pallets of different sizes are required for its creation.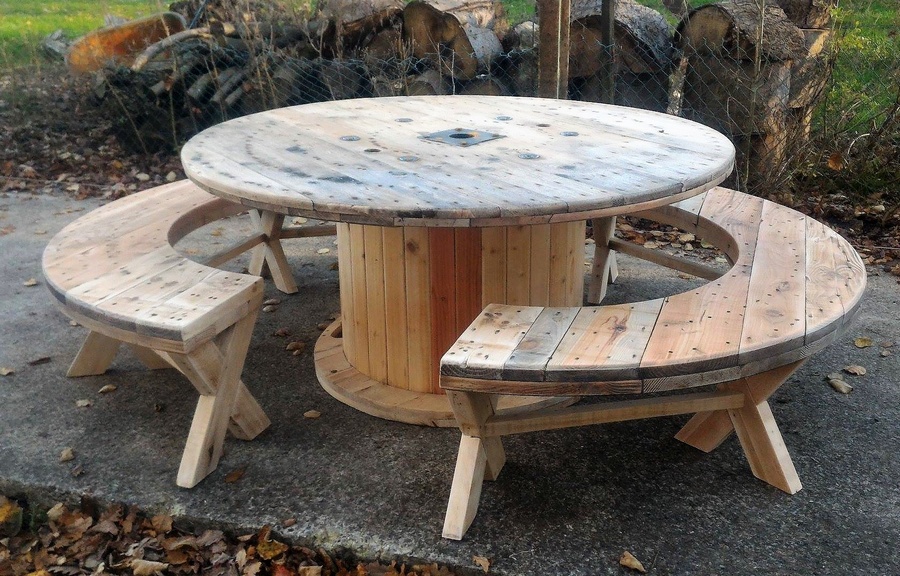 It offers a comfortable seating arrangement for which the piece in the center needs to be made first, so that the outer layer can be made in the size larger than the inner piece that serves as a table. It is a great idea for the individuals who are willing to utilize the upcycled wooden pallets for adorning the patio. Investing some time in creating the cable reel patio furniture will turn out to be beneficial as it is not only impressive, but helps in saving money by giving a chance to create an amazing furniture piece.
Created & Shared by: Yoann Moulart