Create Something Amazing By Recycling Used Pallets
Give the unused wood pallets a second life by recycling it to make something of your choice for your household. Making furniture out of retired wood pallet is a great idea both for your pocket and your peace of mind while staying around an environment of your own customized style. Furniture is otherwise costly if you buy it from the market and for that reason most of the people compromise their need of some furniture but now you no longer need to worry about money anymore with these smashing ideas of creating different furniture items just at the cost of your time and skills. You can make outdoor furniture in the shape of bench, garden table, decor shelves and a bed for your living room without anything that bothers your wallet. Isn't it everyone is looking for !. We have always come up with an amazing different idea with these wood pallets. We teach the art of turning a raw wood into some shape to serve us some utility or work on our aesthetic sense.
Lets reshape the wood pallets into something as fine as this couch. We implement a unique idea of making it a block-pedestal seat instead of four legged one. An extra table is adjacent to the couch to serve multipurpose for placing your belongings or accommodating your just-arrived friend.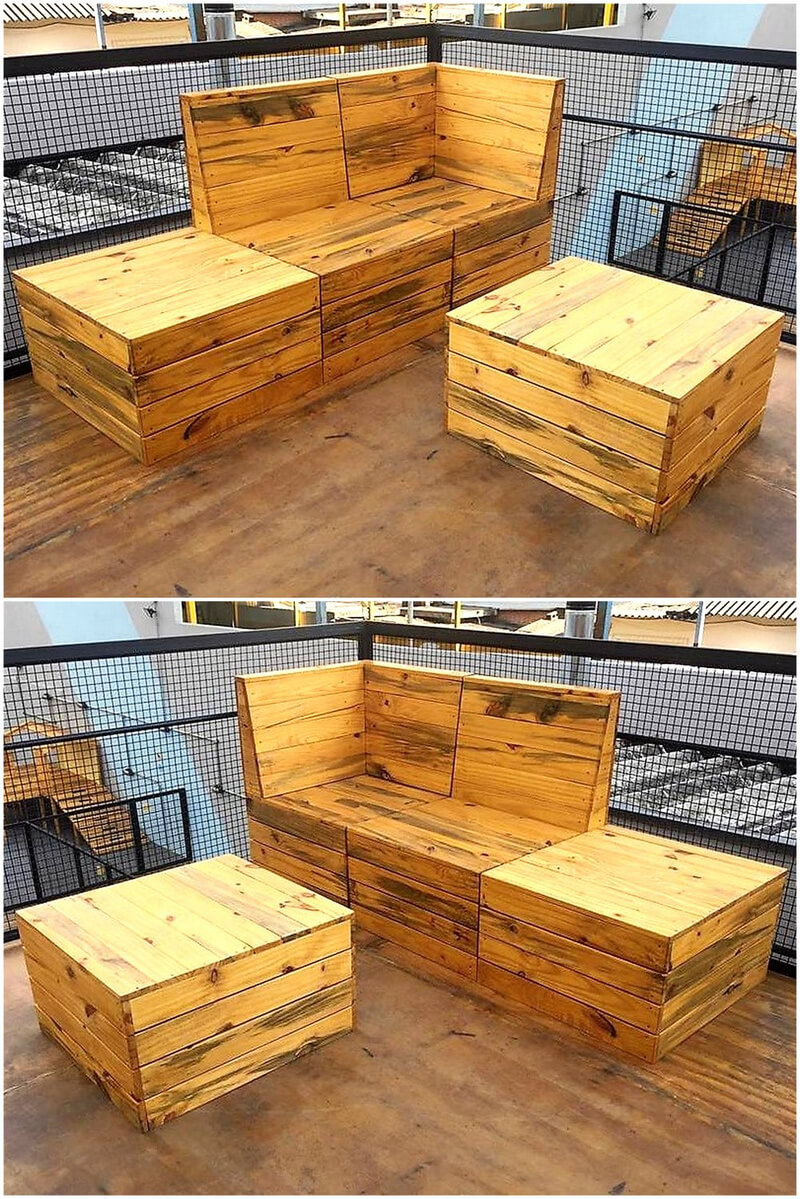 Why not recycle our wood pallets to transform into a three-seater bench with back rest this time? So delicate to see this craftsmanship of some sheer class. Give your outer area a varied and versatile look by adding this rustic but stylish bench. Your Garden must be thankful!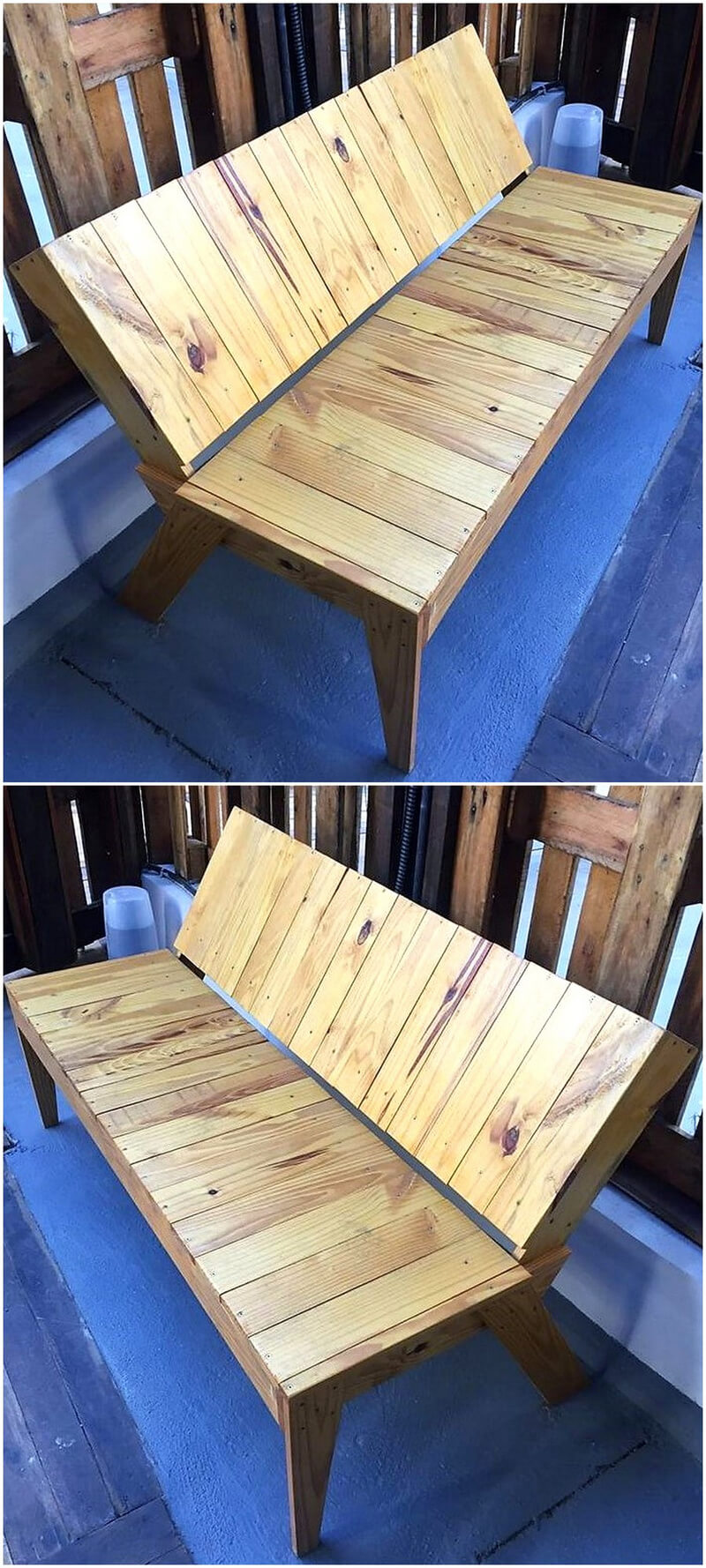 Engineer a bridge at home with these re-purposed wood pallets to come up with a different idea for your friends and guests to see it in your garden. Enrich the looks of your garden by placing this artwork to sharpen the effects of nature.
Make some useful nightstands for yourself from reclaimed wood pallets. It serves the decor purpose as well as the utility with as many drawers as you need. You are in total command of customizing this recycled side-table, you can make a taller-than-your bed size table make it look different.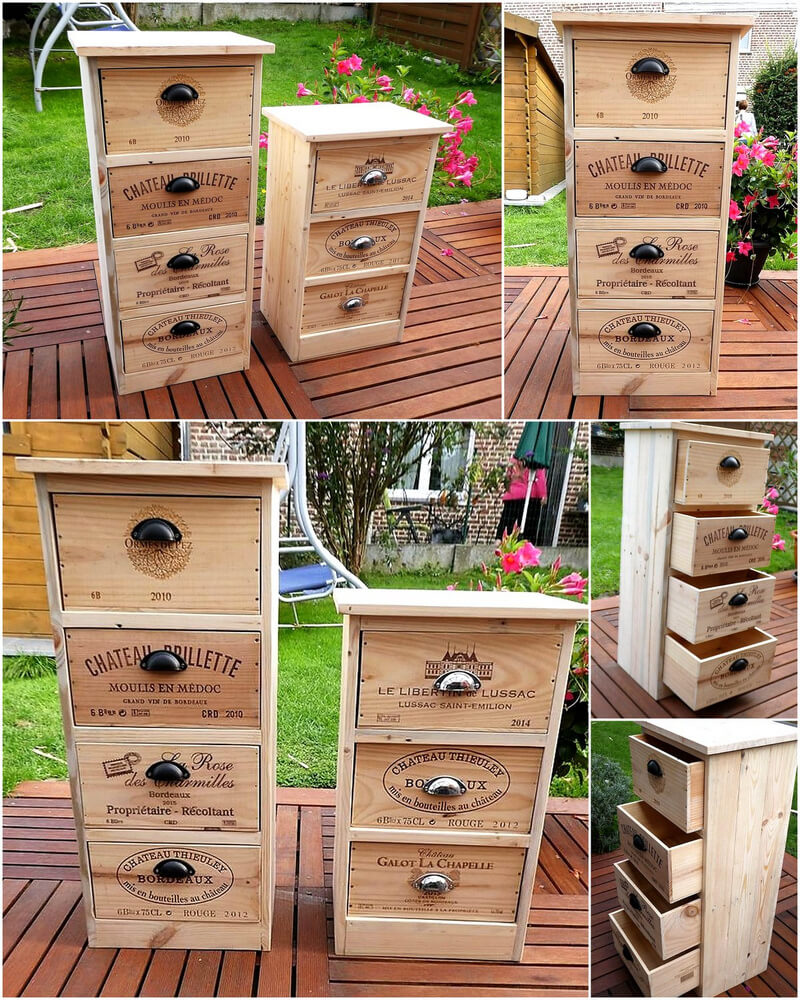 Refurbished wood pallets Wheelbarrow planter ! Is this you for looking for as a next idea for your garden decor. Place a planter in the wheelbarrow and give a unique look to your garden. We never go out of ideas when it comes to recycling the wood pallets to create anything.
Are you planning to buy an arm chair for your garden? Read this one liner before you spend your hard-earned money in something your can make with a little effort at your home. Re transform your retired wood pallets with a little effort to have your desired outdoor furniture.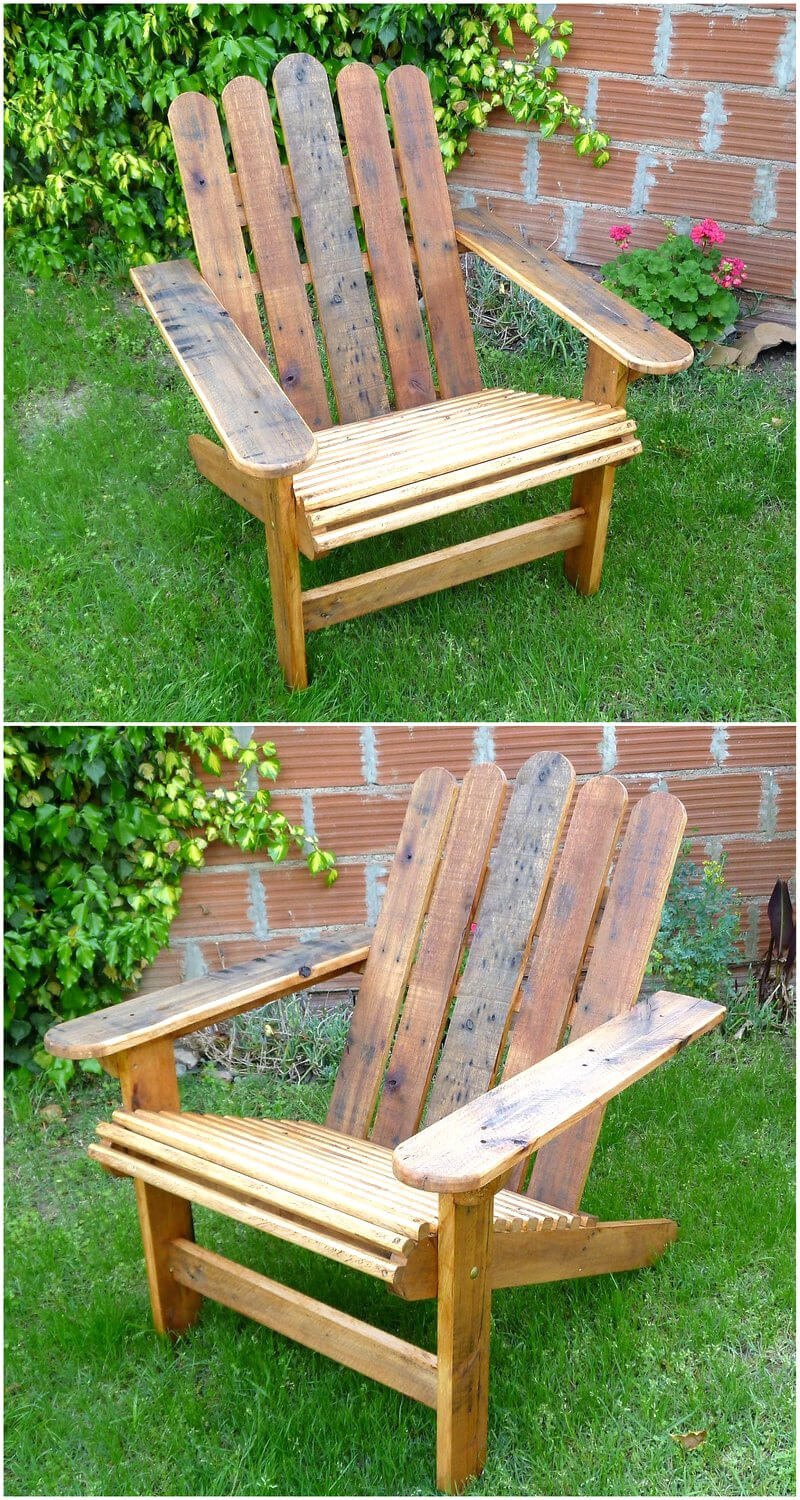 Wood pallet bathroom storage cabinet is a must thing. Here we give you a fresh idea to utilize your unusable space in a space constraint bathroom. You can make as many drawers and shelves you need with this multipurpose recycled cabinet.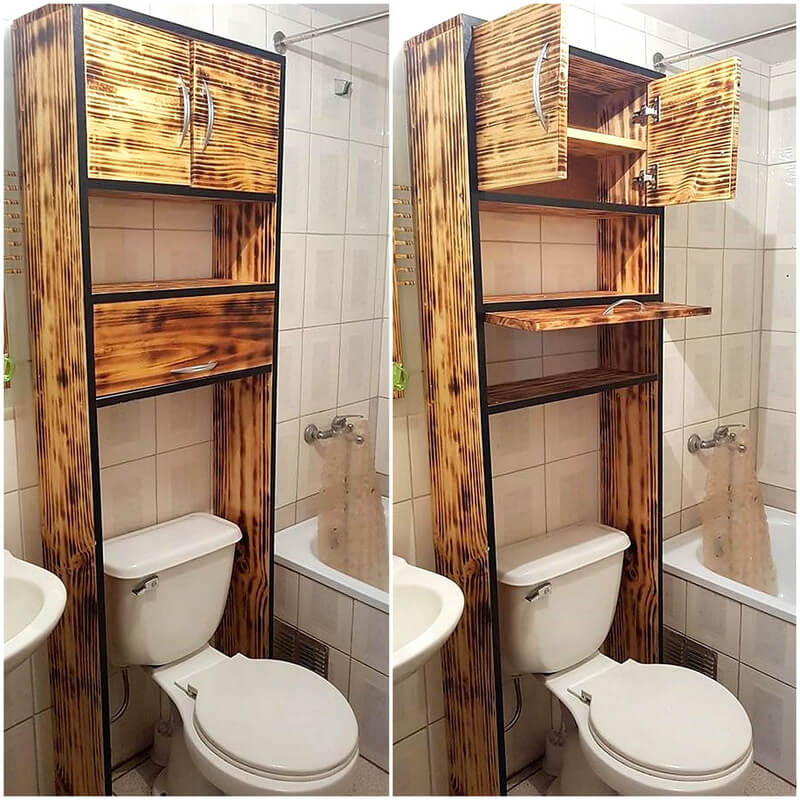 Make yourself sit close to nature with this reclaimed patio bench with planters attached to both sides of it. It is giving a classic and varied look to your place with serving for your decor purpose as well as your sitting utility.
Re-transformed pallet patio Lounge entrance is a unique idea that makes your outer space look different. People may book your lounge for their birthday parties with so attractive reception. A great place to arrange your social activities.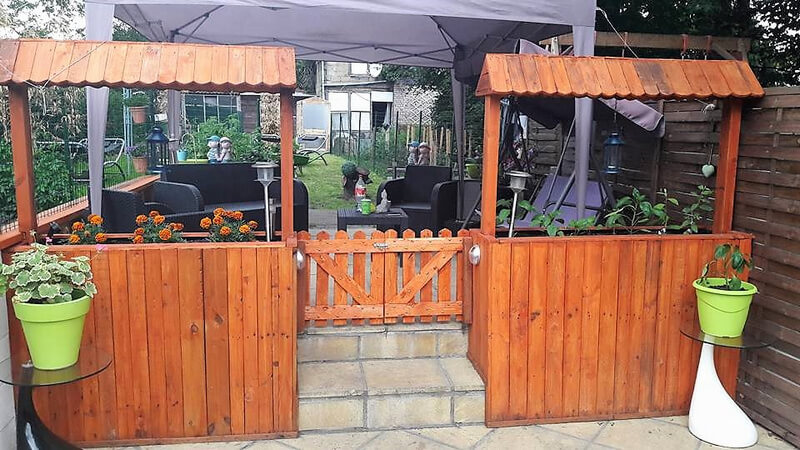 DIY wood pallet garden table is an easy to craft idea. We only need to take few step to complete it. Lay the foundation , give it a center support and fix the long wood pallets alongside the frame. This is quite useful for your garden activities.

Recycled wood pallet indoor wall bar is here for your. lets use our wood pallets to make ourselves a beautiful indoor wall bar that adds to the beauty and class of your covered space but also serves a purpose. You can have as many shelves as you need to make this spacious furniture.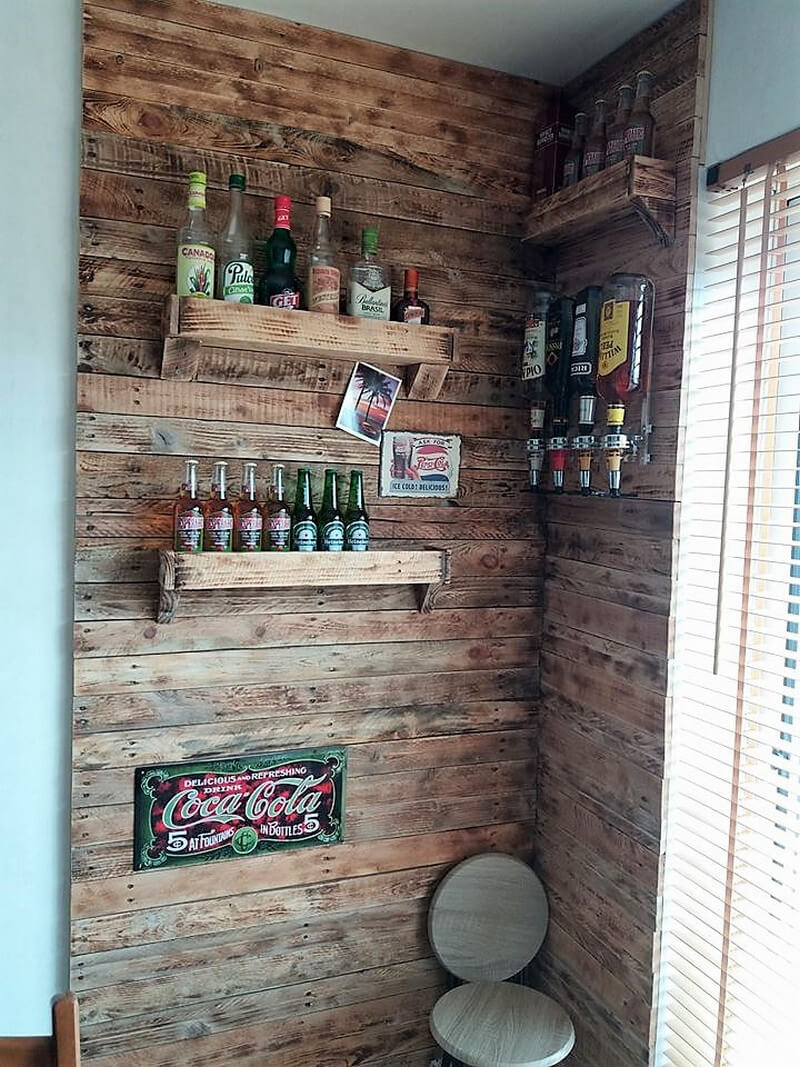 Stop feeling unsafely of your kid by creating a play-land inside your house by re-transforming wood pallets in a crafty manner. Slides are favorites of children , the rope-bridge is giving a variety to your kid so that he does not get bored. You can give more options to your kid.