Repurposed Pallets Made Patio Corner Couch
A patio of the home is a place that can be used for enjoying with the family if there is a seating arrangement there, but it doesn't mean that you have to invest a huge amount of money for the seating arrangement because the furniture for the patio can be created at home and the great about it is it will never give a look of created with an unprofessional person. Here is an idea with the repurposed wood pallet patio corner couch is presented, which can be created with ease and there is no need to manage much time for its creation.
See the reclaimed wood pallet couch; a table type item is created on one side of the couch. It can be used for placing the glass or plates if the couch is used for the partying purpose or for enjoying a fine day with the family on the weekend. The pallets are painted with glossy finish and there is also a separate table for the dining need. The foam is covered with the gray colored fabric and the cushions are white, the combination is making the couch look appealing as well as different.

It is a good idea to copy because the corner couch allows the place for almost 6 to 7 individuals to sit on it and have a gossip session. The back of the couch is slightly bent for the relax seating and to fix the cushions.

There is a space beneath the surface of the recycled wood pallet table created with the couch on which the plates or other items can be placed. It is best to enjoy the weather with the family members sitting on the patio and spend time with them to make the lifetime memories. Creating couch is a perfect solution of seating issue.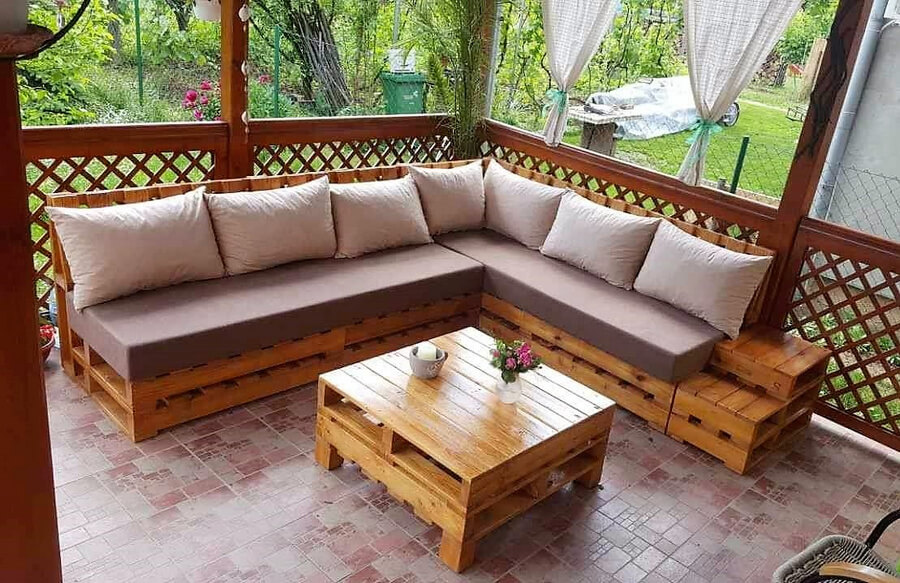 Created & Shared by: Namestaj od paleta