Long Bench Made with Reused Wood Pallets
Bench is a good idea to place outdoor in the lawn or in the garden where the family members will love to sit to enjoy the beauty of the nature. If there is a spacious area to place more than one bench, then it is fine; but if the area is less and a person wants to arrange seating then here we are going to show an idea for creating a long bench made with reused wood pallets. A single bench will be enough for allowing seating for many individuals at a time, see the idea and copy it if you think it will serve your purpose.
Have a look at the long bench after it is completed, the pallets of different shades are used for creating this bench and they are looking awesome when used together. This idea will not take much time and it will surely make the area look great.

The design of this reclaimed wood pallet long bench is simple, the pallets are just joined with each other and they are not cut into stylish design which is good for the person who can't manage much time for creating the furniture at home.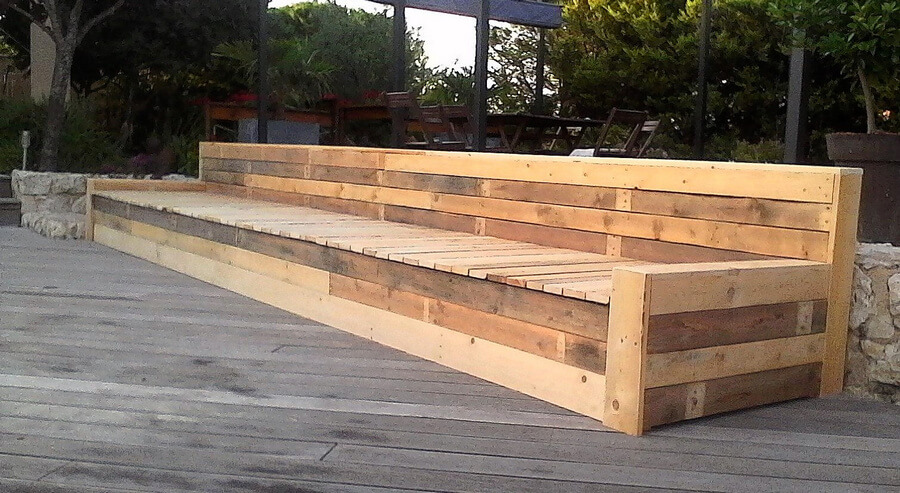 The bench is long enough to allow the seating for almost 8 to 10 individuals, the back of the bench is simple and it will not look as an extra thing when placed in the lawn because everyone will like to spend time there while sitting on it.

The recycled wood pallets are looking neat and they are used as they were purchased, the sander can help in smoothing the edges; but the pallets are preferred because they don't need extra treatment prior to starting any project and it saves the time of the creator which is the best thing about the pallets.

Created & Shared by: Il y a une vie après la palette