DIY with Pallets Furniture Ideas and Projects
Wood pallet wall cladding or paneling whatever you name is one of the best things that could be done with the shipping pallets. The timber obtained from the shipping pallets is such a rich source that almost all the creations could be made with it that are usually made with the wood. This time we are going to do something different other than making the wooden furniture articles. We are going to demonstrate the wood pallet wall paneling here where brief directions would also be given. This would be massively useful for the ones who are really beginners and want to do more with their skills.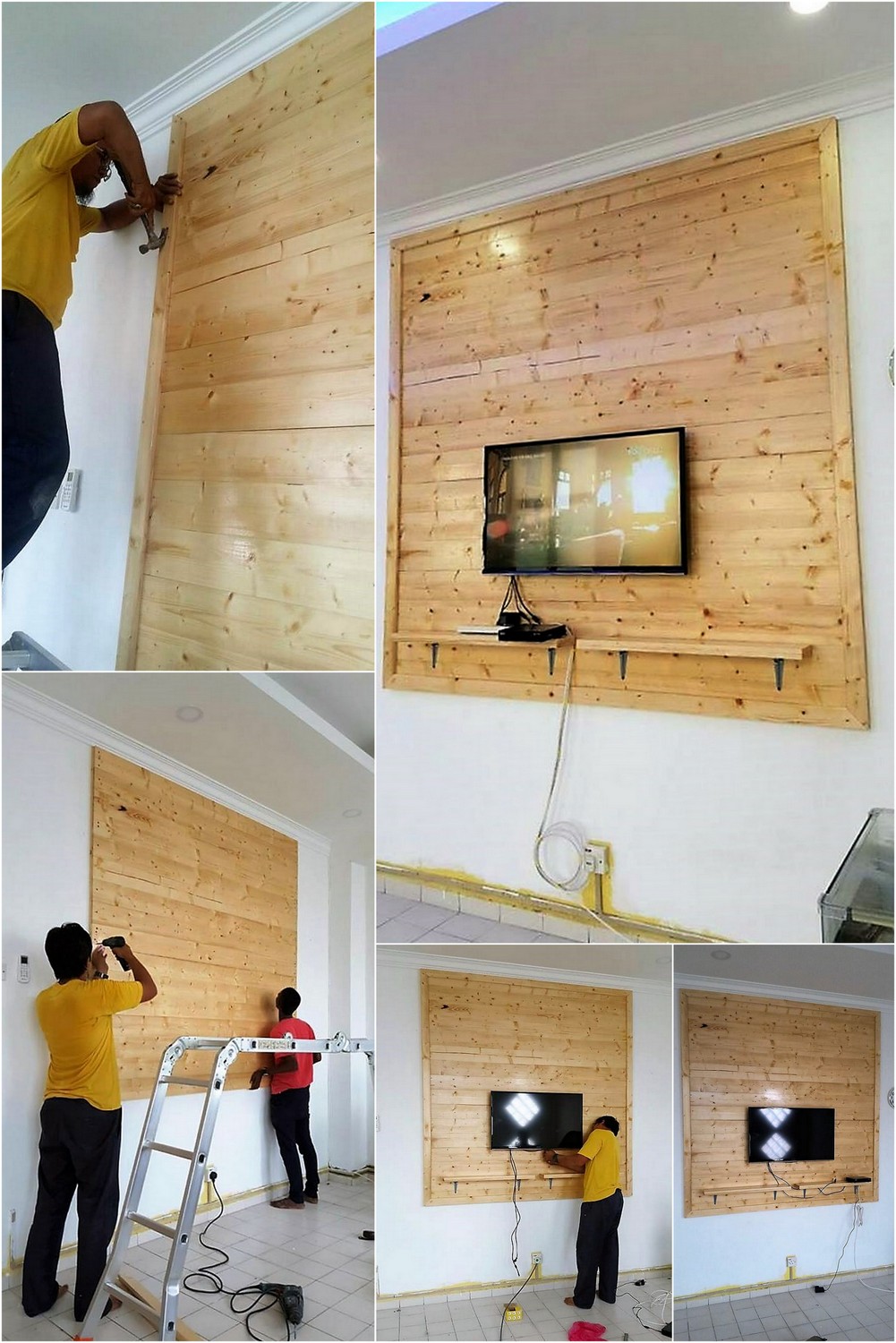 So before you get started make sure that your supplies are pretty good to be used inside your room as you cannot afford to place here some wooden planks that are aged and scarred and would harm your room interior as well.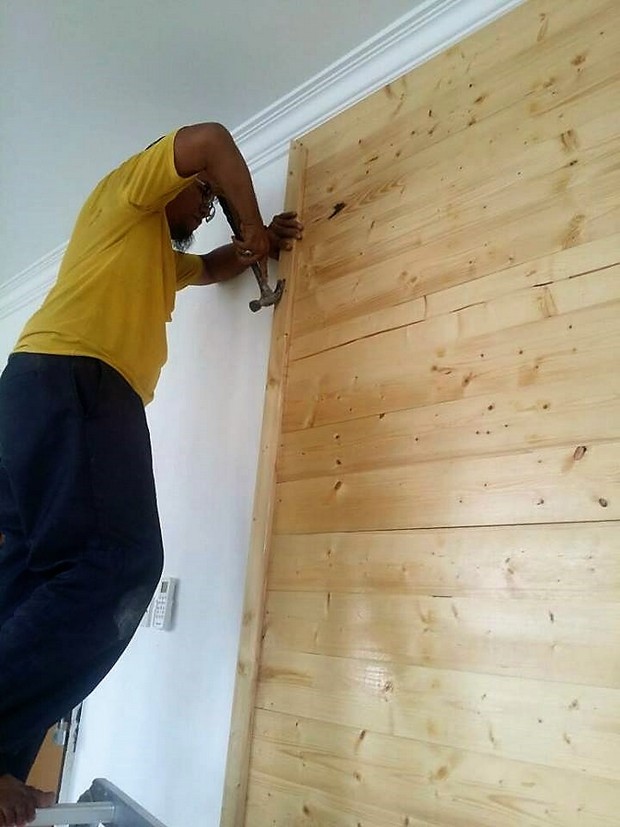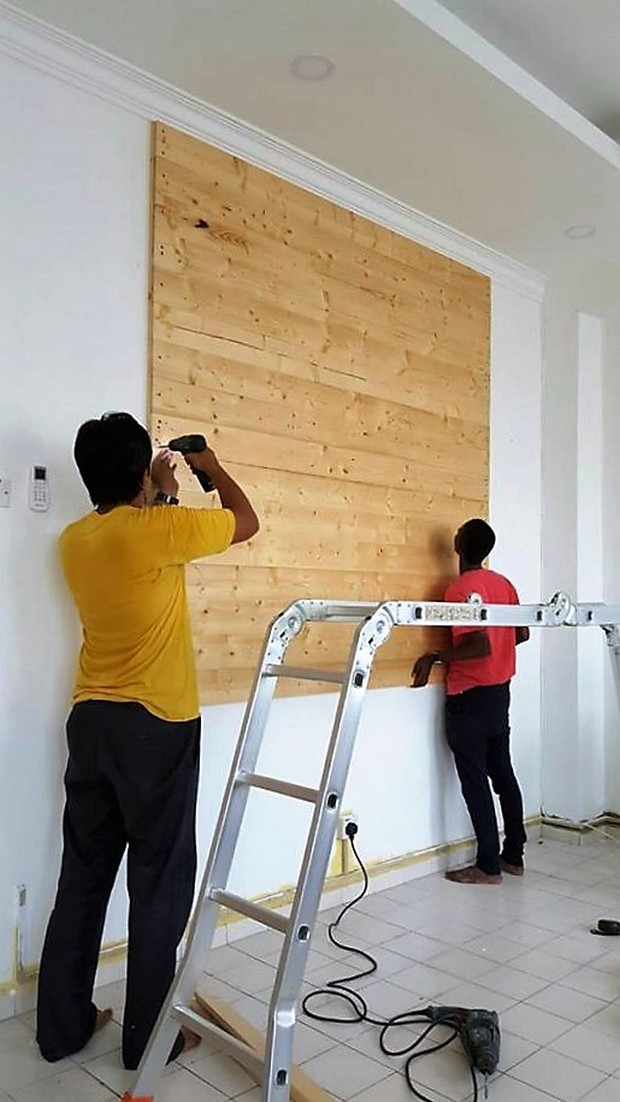 Once you are done with the collection of your supplies, disassemble them very finely with some advanced tools that would ideally do the job. If doing manually this would leave many planks broken and damaged. Cut them all to the size and instead of manual nailing, prefer to use the nail guns that would again make your job damn easy.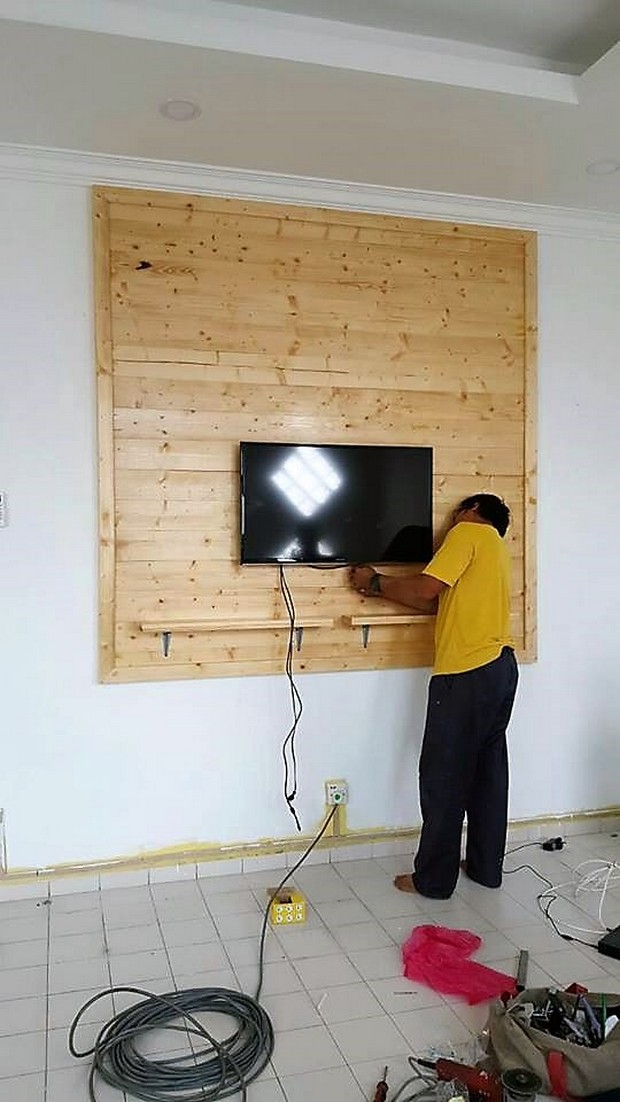 Start pasting the pallet wood planks from the top of the wall, align the cut to size shipping pallet wood planks in straight and simple sequence. It would be better to paste the planks with some glue and then later on fix it with the nail gun ensuring the strength.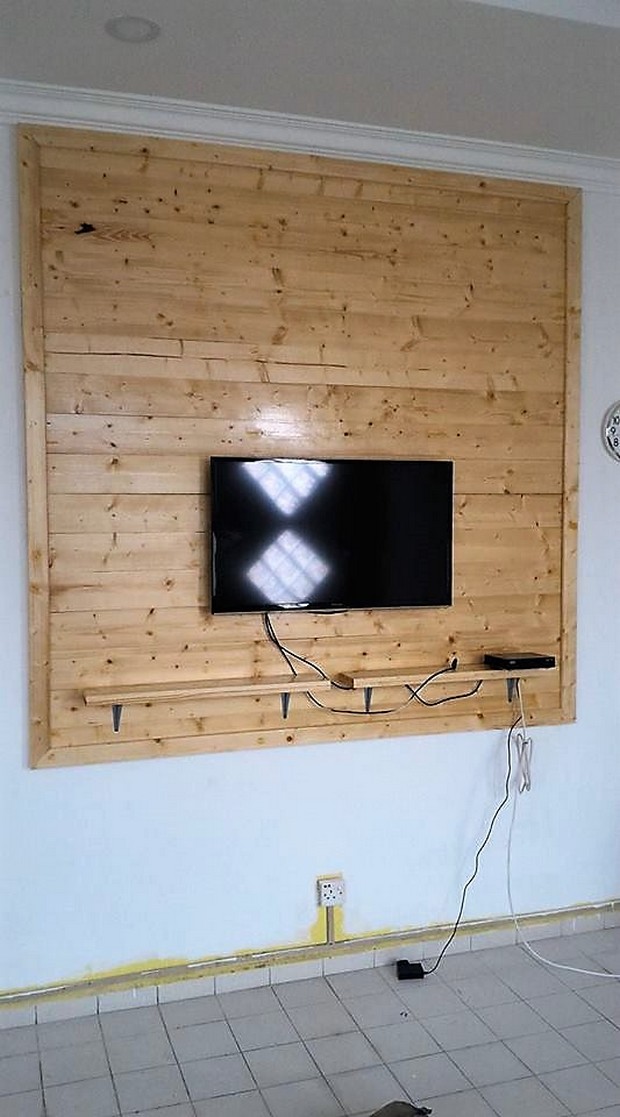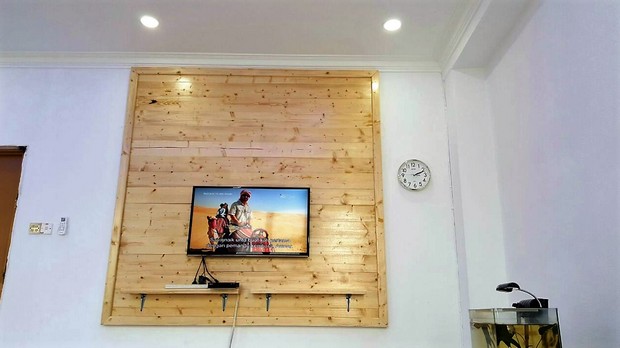 Finally you can do some very fine nailing on the project as a whole instead of dealing with each separate pallet wood plank. Use high quality sand papers to smoothen up. And try to use the straighter planks, leave the ones that are curved or tilted due to any reason.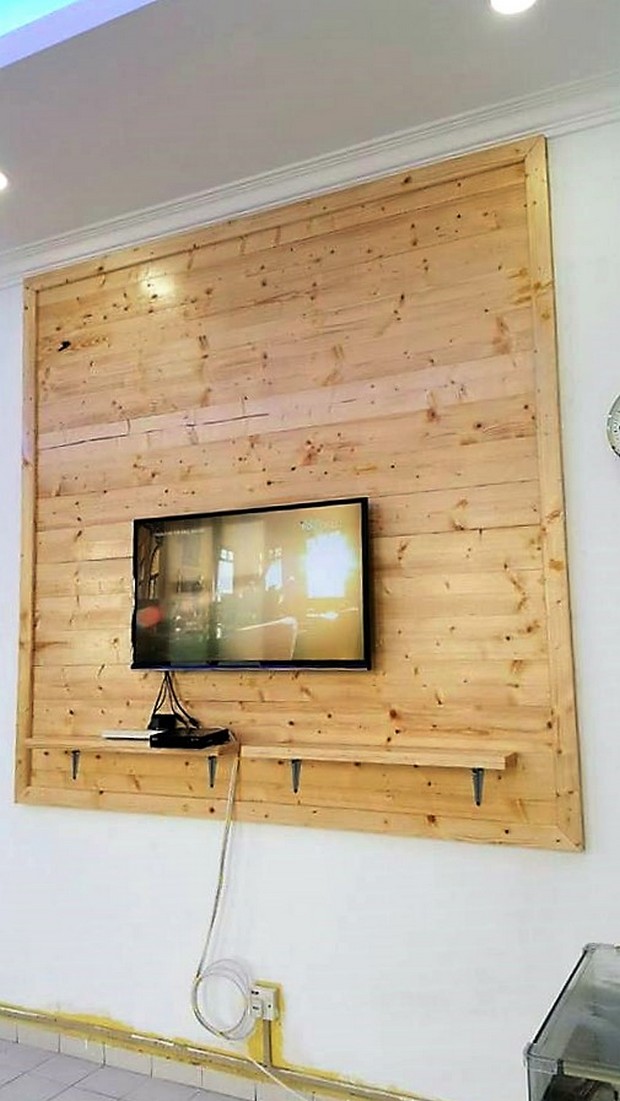 Created & Shared by: Salim Mad Nor
Okay, guys hang on, I am actually going to present you something that would literally leave you speechless. This is also a response to those who say that we just cannot make some truly worthy things out of the shipping pallets. This is actually something that belongs to all of us. Like it would remind us all our beloved childhood that we always crave someday gets back. This is a pallet wood made baby cradle half moon. First tell me how about the idea overall? You would have seen this wooden article on some huge branded stores carrying a tag of some multiple figures, but don't get scared here it is pretty free for all the pallet wood crafters.
To be honest even I took the inspiration from a mega brand of furniture that is known for its individuality and I couldn't even think of buying it.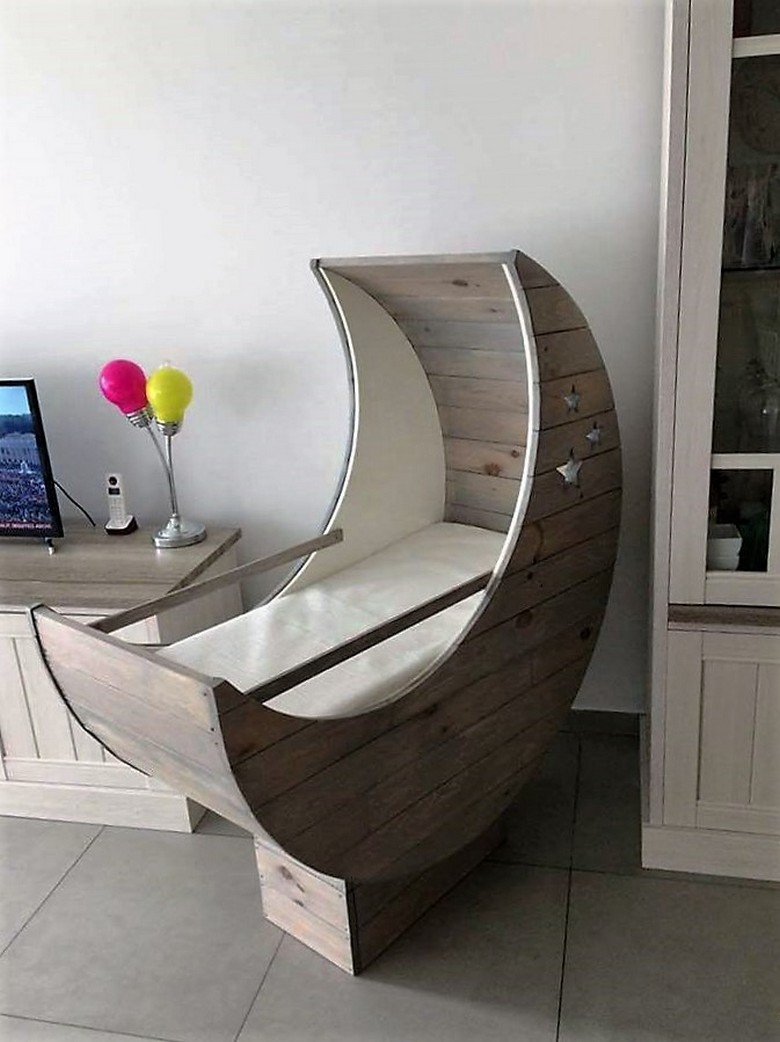 This is going to be something pretty mesmerizing and especially a truly adorable present especially for your kids and those who are newly born. So just make up your mind to prove yourself a great dad or a gusty mom who can go all the miles long in the pursuance of the happiness of their kids.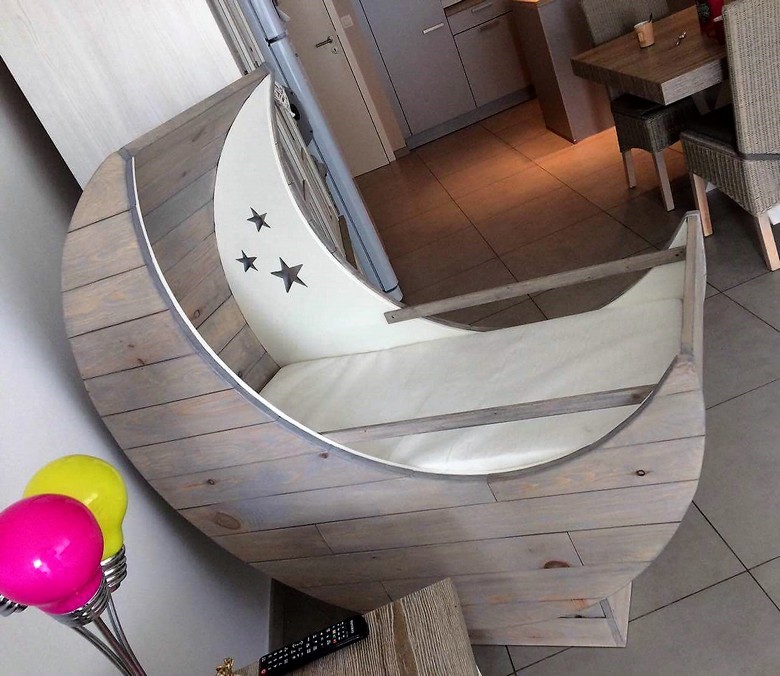 Although it carries a pretty tricky and complicated sort of design that could be risk for the beginners. But the ones who really have spent some good amount of time on working with the wood pallet would really enjoy working on this rustic and unstained wood pallet repurposed kids cradle. Just be specific in the matter when it comes to cutting. Make a base wooden box, and then cut each plank that would fit in a perfect curved circle as shown in the pattern. Use high quality glue and other supplies. Also be cautious in selection of the timber or the pallets.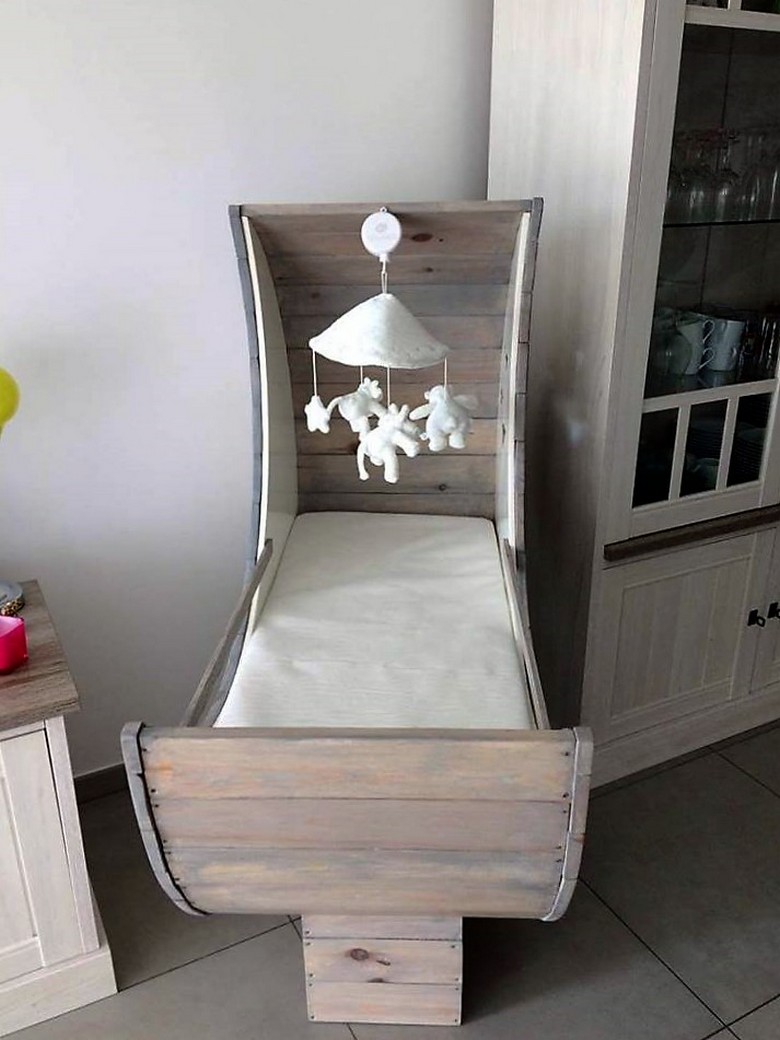 Created & Shared by: Johanna Rotsaert
In these modern days of advancement we see a lot of spending being made in the construction and especially in the interior décor skills. People spend hundreds of thousands of bucks to make their place worth appreciation and for this they higher many professionals. But we as the wood pallet crafters look at this thing from a different perspective having a different narrative. We feel that one must be gutsy enough to bring in some self designed crafts made with the wood pallet and then they would stand taller among the market oriented accessories. For instance, take the example of a wood pallet decorated wall shelf.
A wooden wall shelf is literally something that is a must have in advanced structures. In the same time this wooden wall shelf would have a dual impact inside the house, like it would serve you as a storage and display hub as a storage space, and secondly if it is also decorated then this would make an appearance as a perfect room décor accessory as well.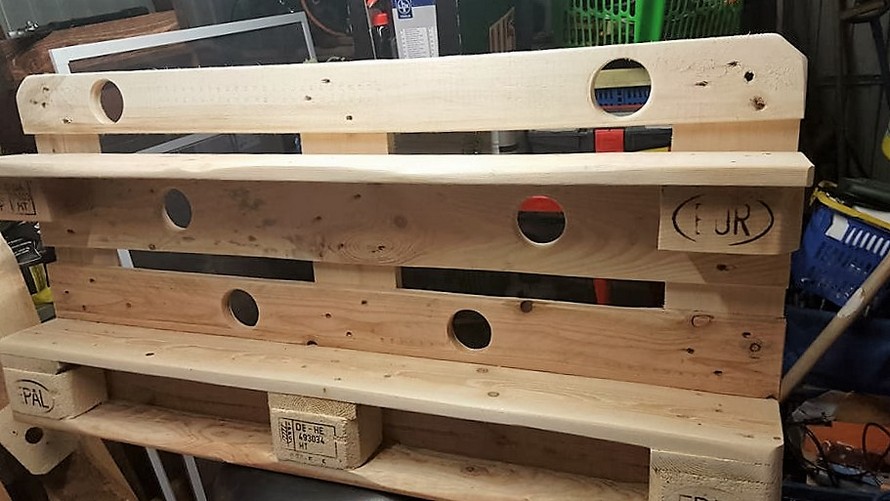 The wood pallet repurposed wall shelf that we are talking about right now is meant to be the one that we have talked about in the upper paragraph.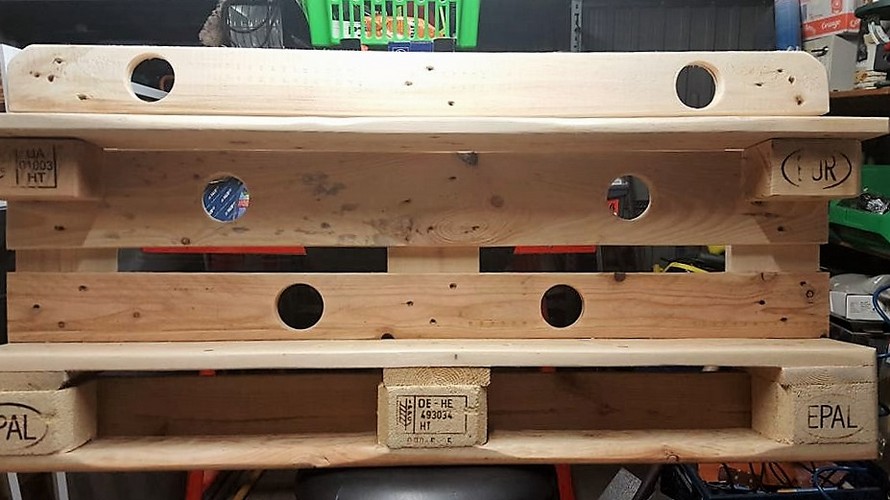 It is basically going to be recycled with mere shipping wood pallets, no additional supplies or material would be needed at all. But some of the manipulations that we have tried on mere pallet planks would literally leave you astonished. Like it is very simply made shipping wood pallet wall shelf, and for the decoration purpose we have tried some carving and patterns carved on the planks itself. This multi tiered wall shelf having carved tiny holes on it is finally very well sanded and then stained. This is an absolute pallet wood creation that would render a fancy look to your simply designed room interior with plenty of utility.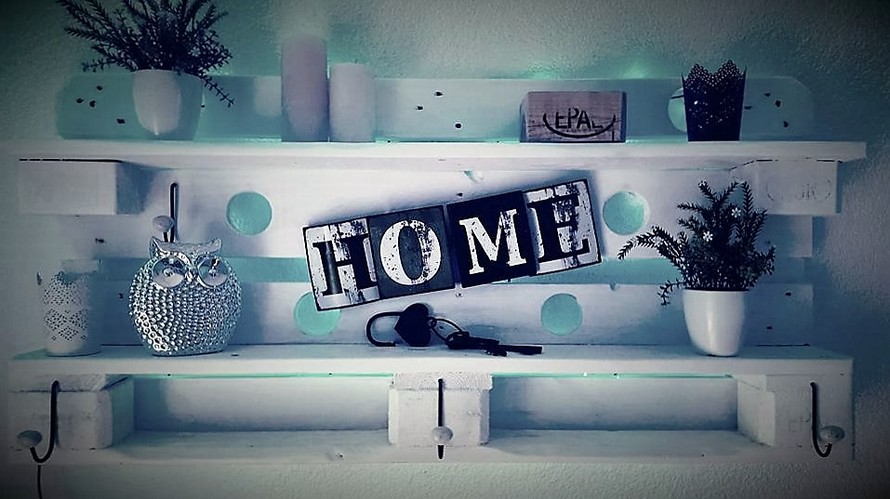 Created & Shared by: Thomas Obornik
A massive support from the folks has always been a motivating element that keeps us hell bent on the exploration of some ever new wood pallet recycling ideas. This gives me and my fellow wood pallet crafters an internal bliss that literally cannot be expressed in mere words but just felt. From a couple of days we were being asked about a smart pallet media cabinet with LCD wall décor. So if we analyze it closely and as a professional or even amateur carpenter, we realize that it has got two aspects. A wooden pallet media cabinet that would also complement the room décor as well.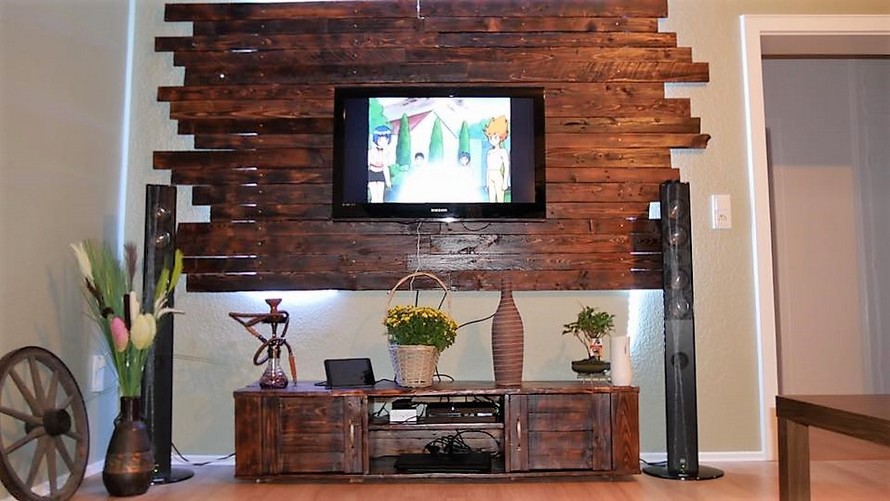 Well, most of the times the things made out of the shipping pallets are meant to act as dual, like they fulfill our several needs and they also add a lot as a décor item as well. So the media cabinet that is meant to be made in today's project is going to be same in accordance to the quotation that we have placed here. And the good thing is that you will not be in need of arranging some additional supplies other than the shipping pallets.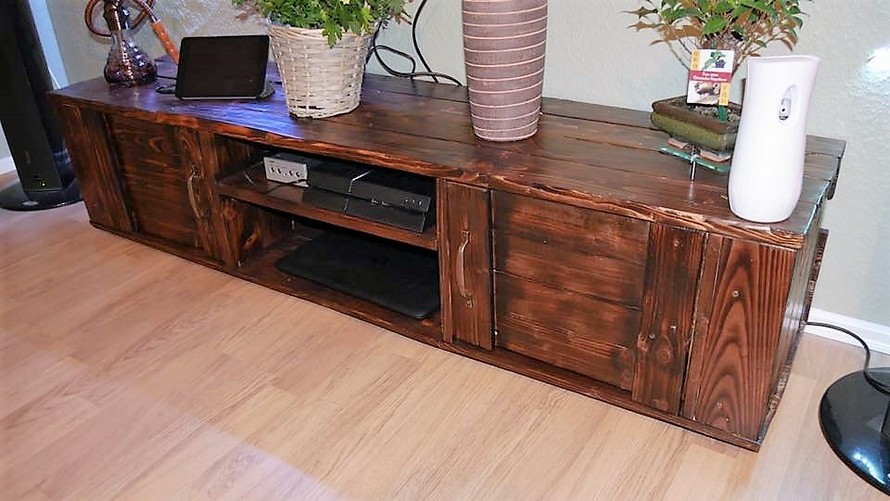 So first of all obviously we had to pay heed to the fact that this media cabinet should be spacious enough to carry all of our electronic devices, and still there must be some sufficient space left behind that could provide space for some additional utilization.

So this is actually a whole package where the straight cut in random sizes shipping wood pallet planks are pasted along the wall. This random cutting renders them a very artistic look. While on the ground we have made a full fledge proper shipping pallet repurposed cabinet that has got all the required portions, drawers and spaces. This would add a lot of value to your room interior for sure.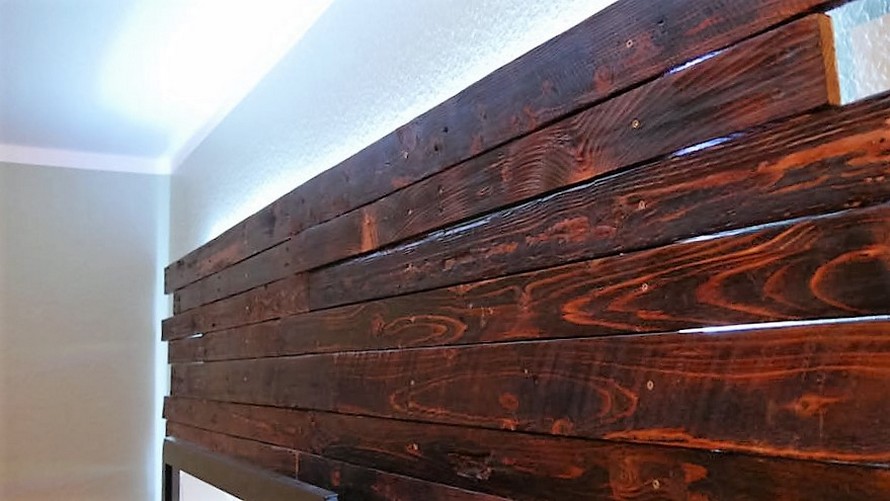 Created & Shared by: Mike Trebacz
In the beginning when we started the shipping wood pallet recycling, we really had no idea that there is going to be a day when people would be asking us to bring them some appropriate furniture plans made out of the shipping pallets. And this gives us a sheer bliss that cannot be explained in words to help and guide our fellow surfers. Let me remind you guys that we have a worked a lot in this idea where we presented some of the shipping pallet made furniture items that were perfectly fit for the official use.

Well, talking on the technical terms what would be your expectation from the furniture items that would be used for the office? Like you just cannot pick a common furniture article that was meant for your house and place it in your office. Furniture range meant to be used inside the office are meant to hold certain specifications.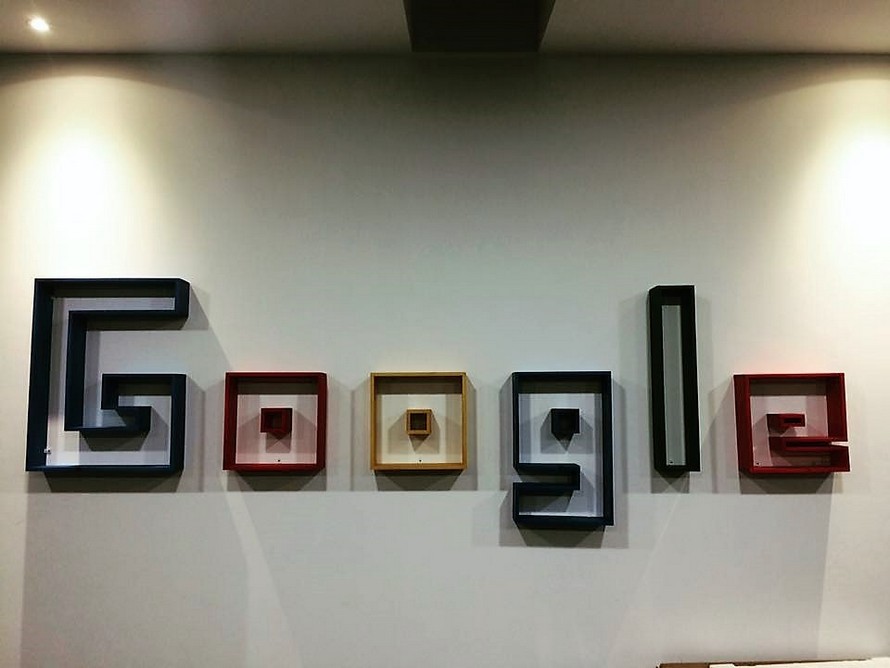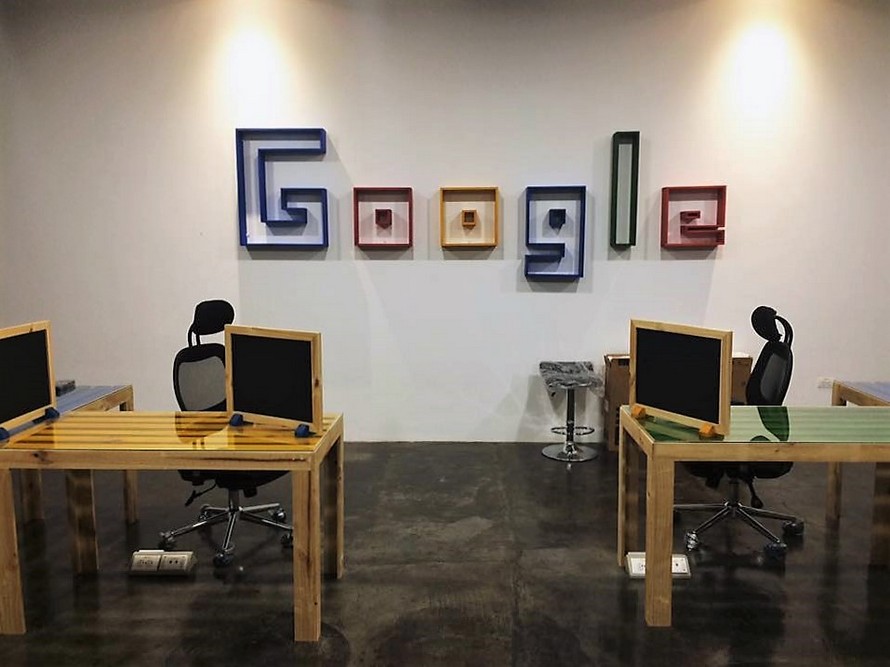 We can sum up the idea in the words that this should be sleek and stylish, it should be formal and not the casual, it should be very well finished, and the dimensions should also be planned according to the available space inside the office or the compound where they are meant to be placed.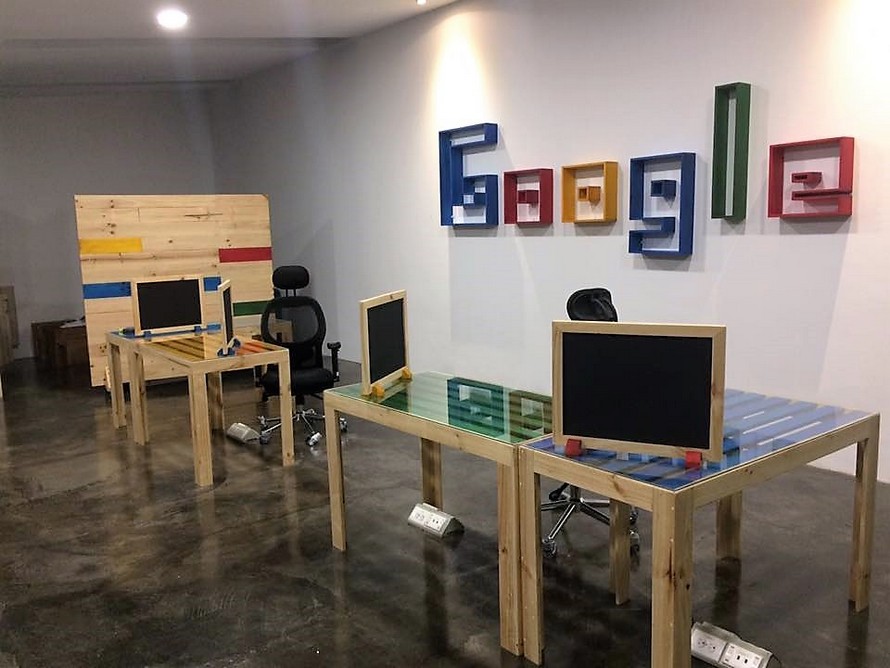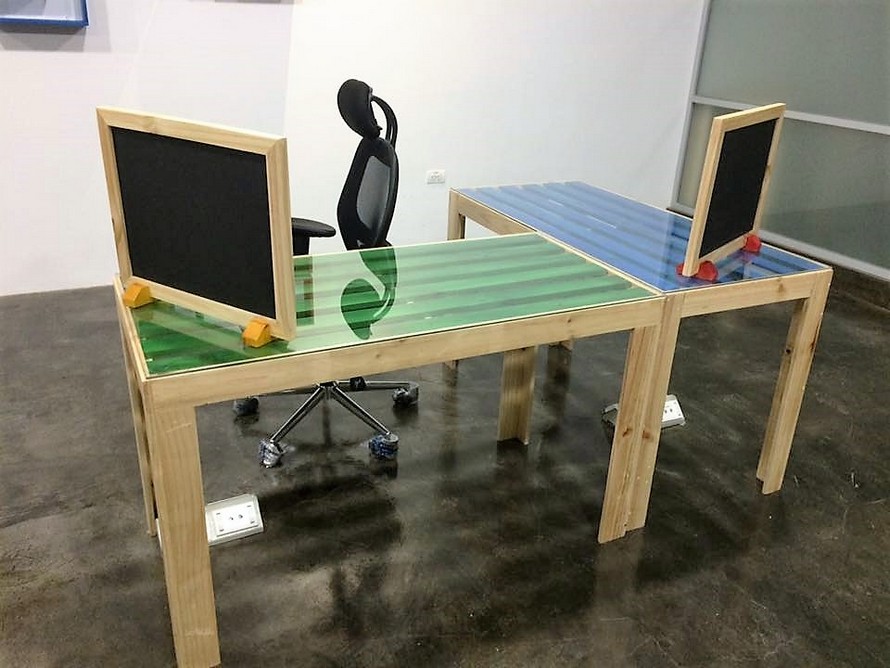 So we have brought you guys various furniture ideas here that are all made with the shipping pallets. For instance this huge wooden conference table that would cater all your need regarding a table. It has got a glass top that renders it a perfect formal look.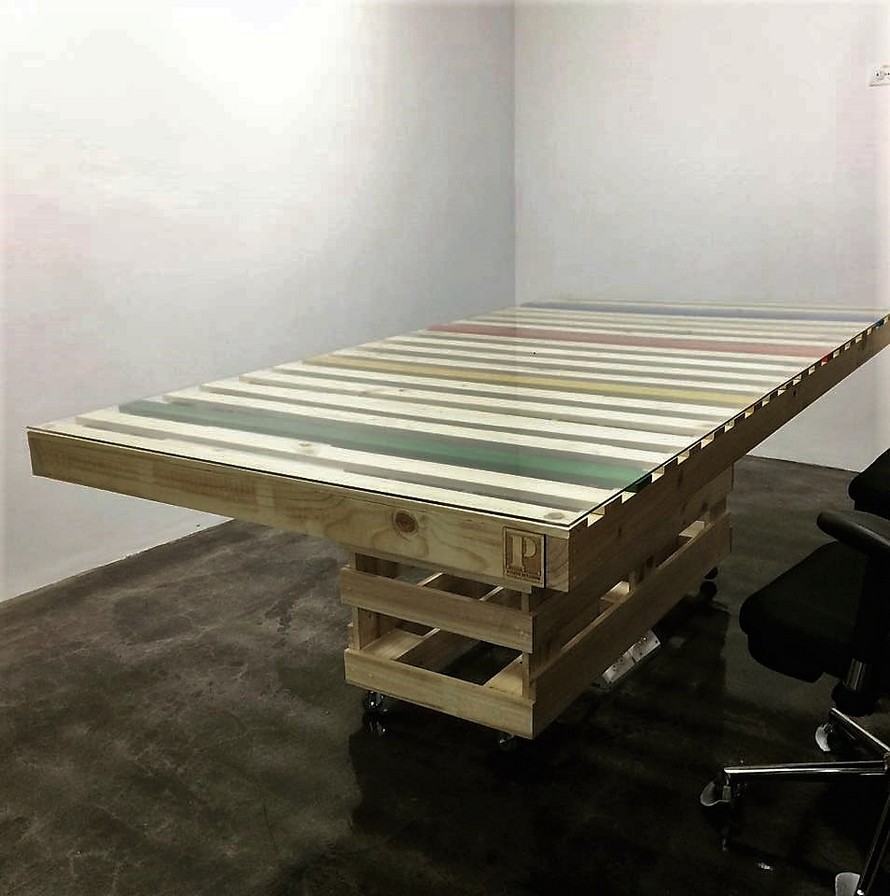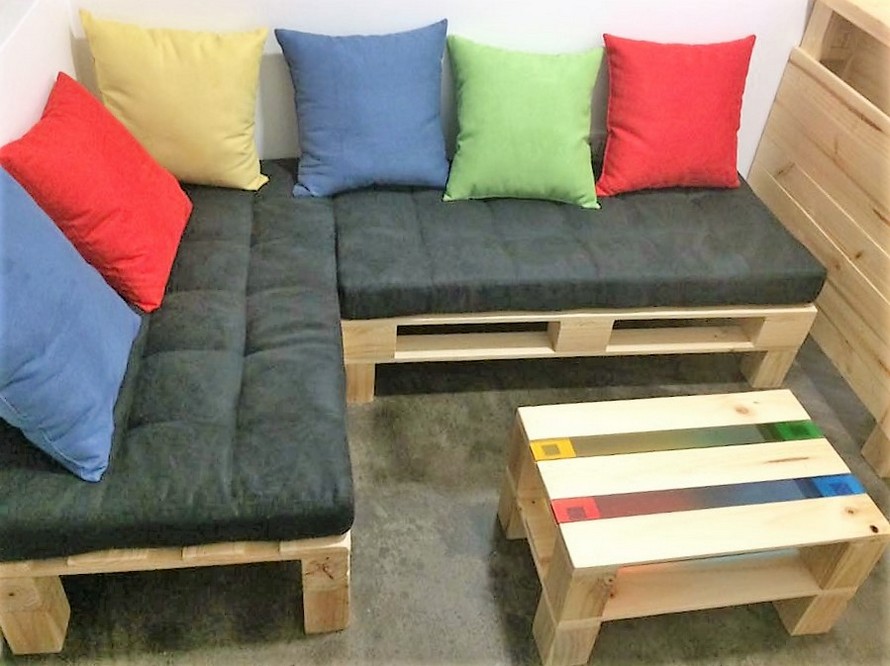 While the furniture range that is meant for some retiring room is a having a bit of formal and casual touch as well. This is a sweet amalgamation of style and decency I would rather say. Very fine and clean shipping pallets are used to ensure the beauty.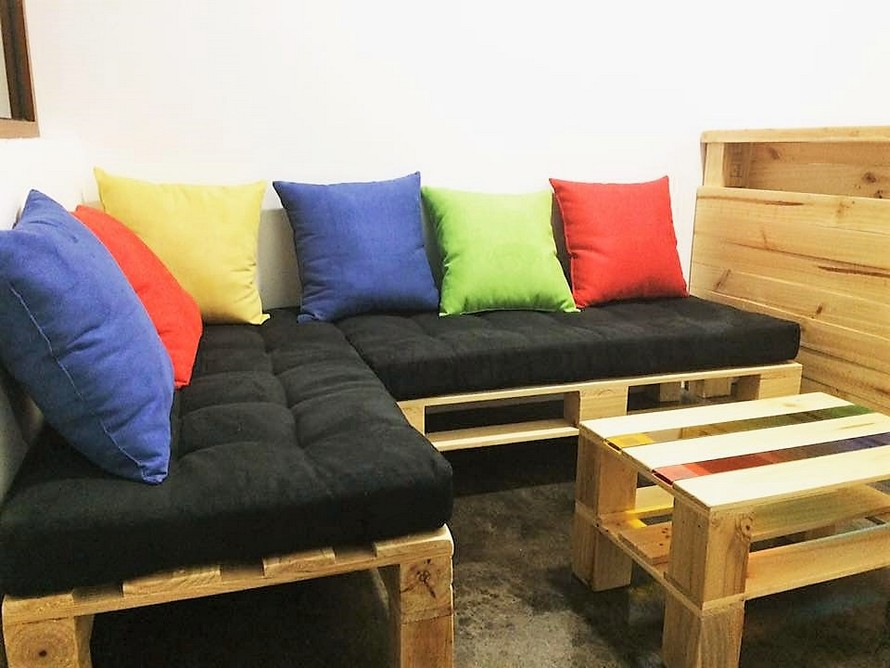 Created & Shared by: Palets Ecuador