Creative Ways to Reuse and Recycle Wood Pallets
Up-cycling your used pallet woods collected from the shipping area or warehouse and turning them into something amazing for your home is always a great economical idea. However, its recommended to chose the safe wood pallets which are heat processed for your hygiene reasons as the wood pallets are applied with chemicals for different reason. You don't need to be a skilled craftsman to make yourself a table, bed, bench or any other furniture out of these retired wood pallets. This inexpensive furniture lasts longer to anybody's surprise. Its worth giving your time and effort for something very economical and useful for your home.
This reclaimed wood pallet patio bench is a perfect need of your garden and outer space for yourself to breathe in a fresh air or to sit in an open air just for a change of environment. Its giving absolutely rustic looks with its simplicity and raw looking pallets. You can paint this two-seater with any color of your choice that also complements your overall outer environment.

Re-transformed wood pallet terrace for your garden is a wonderful idea to give a classic welcome to the visitors.  A two feet elevated from the ground wooden deck has been created for this purpose and a shelter is also provided for you to enjoy the rain in your garden. Sanding the deck will give it a more fine and polished look.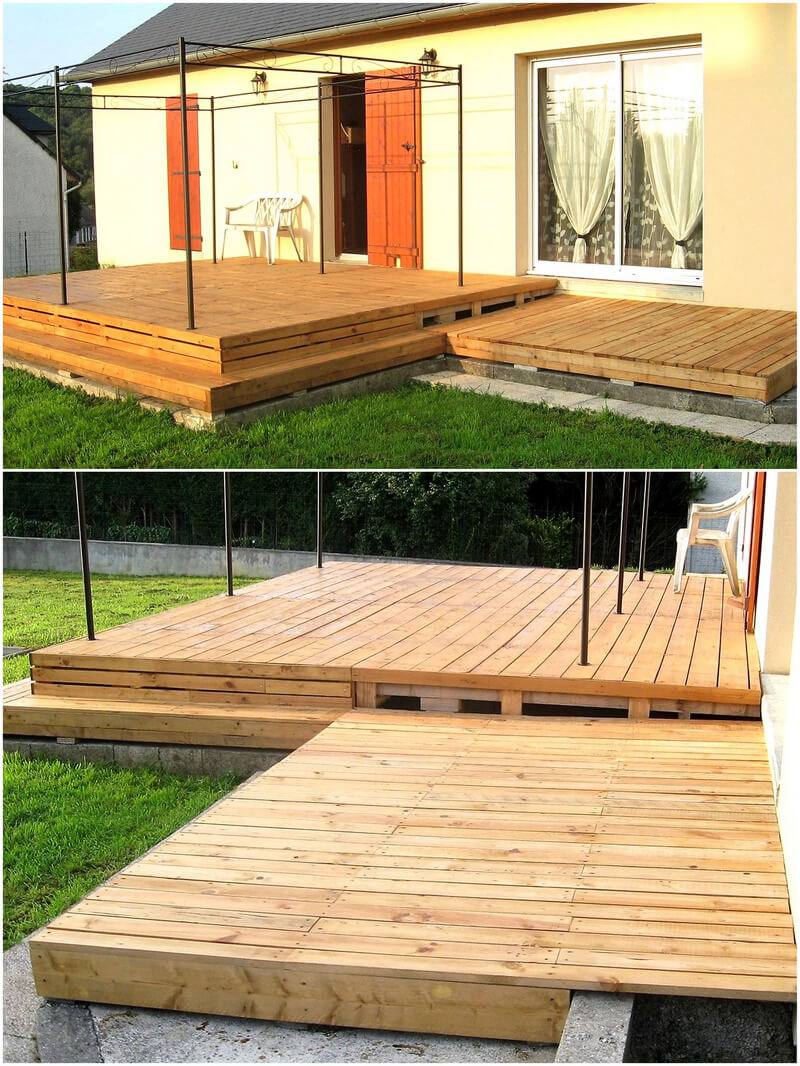 Re-purposed wood pallet kids bed could be an excellent birthday present for your child. You can customize the bed to equip it with drawers and windows with providing protection to all sides by placing one feet tall pallets elevated from the bed for a safety purpose.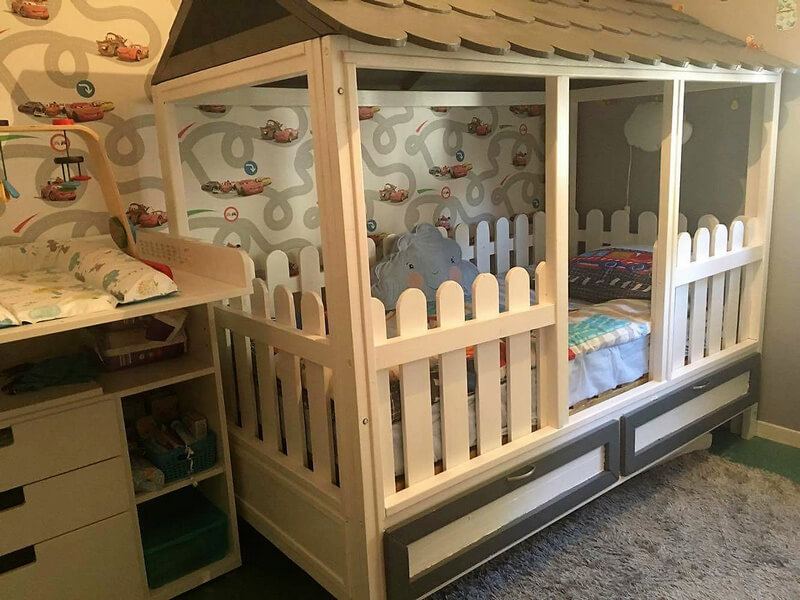 Now make yourself an up-cycled pallet wood couch for your drawing room. It has a unique style of having bigger and wider seats and a short rest/back. The armrest are wider enough to accommodate your cup of tea, book or a newspaper. It is not sanded well enough for giving a rustic look.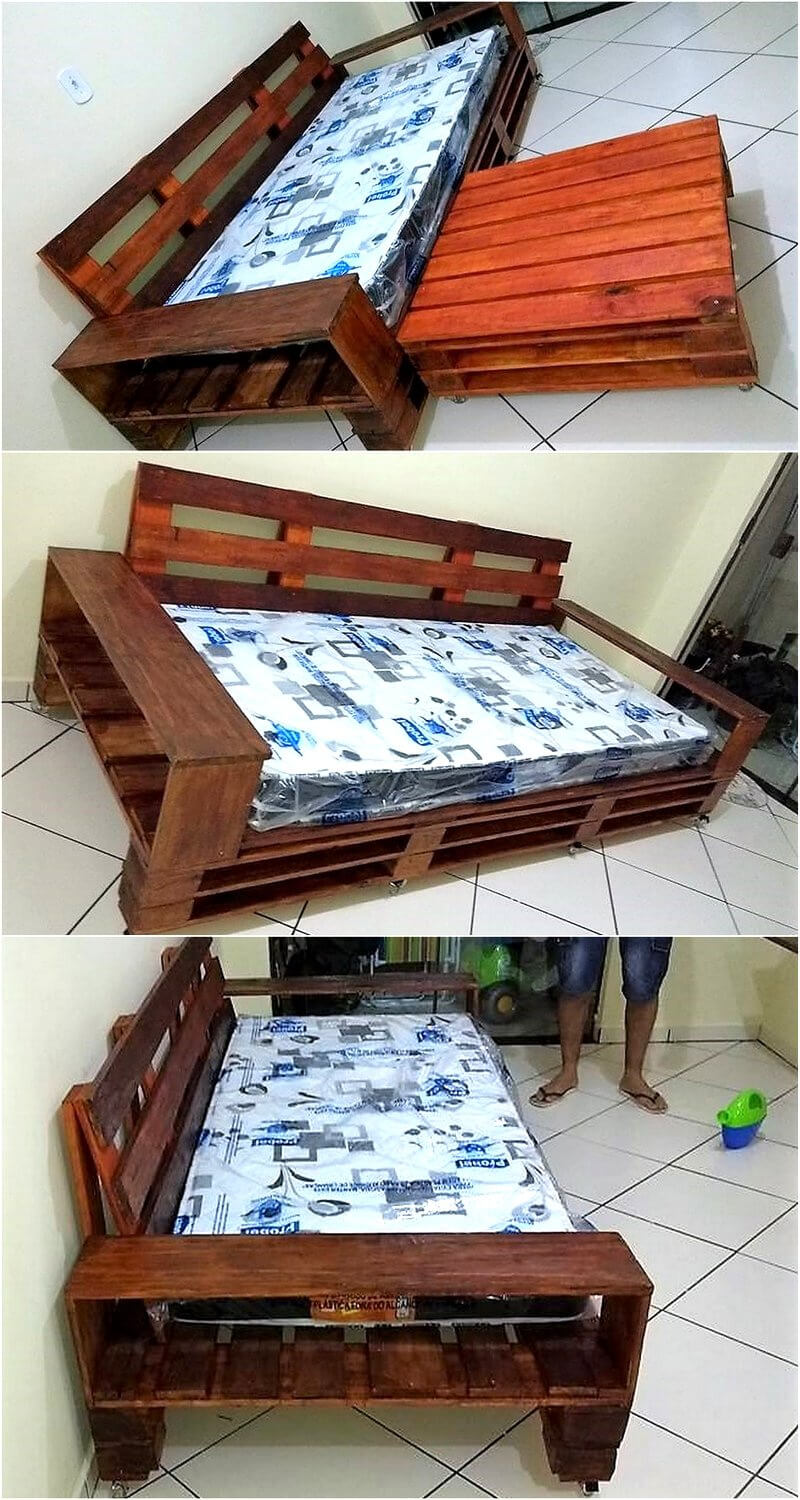 This re-transformed wood pallet nightstand is simple and classic with natural looking handles giving it a rustic look. Everyone is in need of a nightstand to place his sunglasses, water, a book , medicine and watch during night so its a necessary furniture for your bedroom. Craft a simple but resourceful nightstand with many drawers with inexpensive retired wood pallets for your bedroom.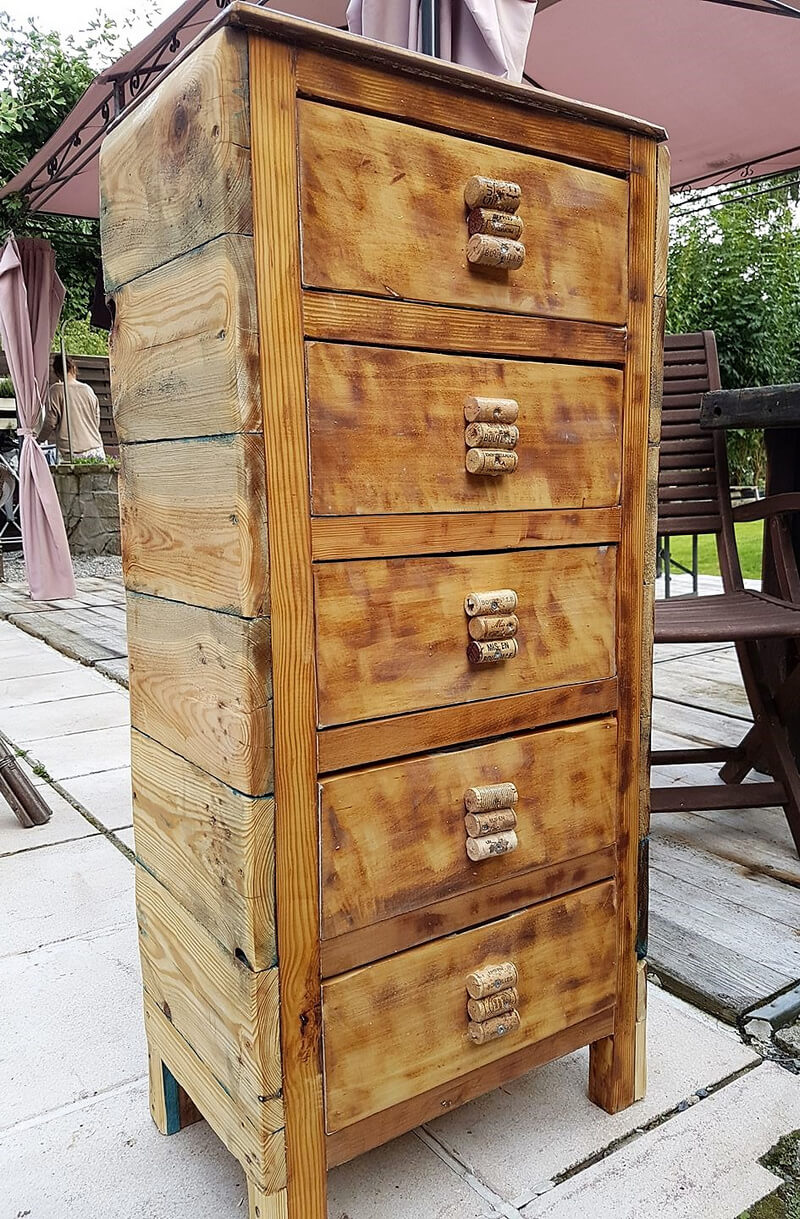 This aesthetically pleasing recycled pallet wood artistic chair speaks louder about the imaginative power of the creature. It has a unique style with a one-piece curved seat and rest gives you comfort to sit on to relax. you can also have a nape. The design is so appealing.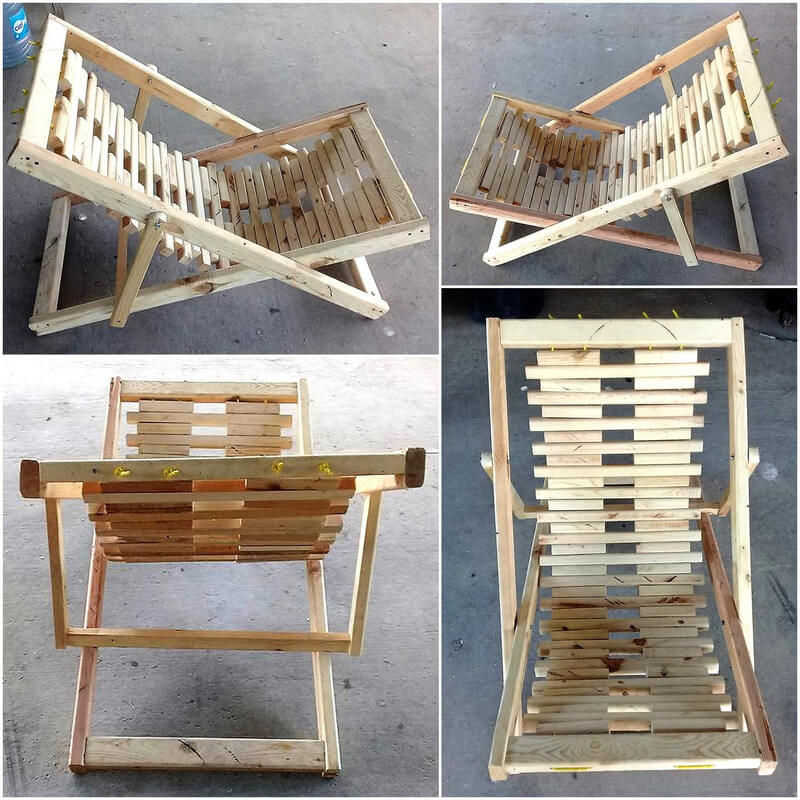 This reused pallet wood shelf art is another very creative art, it gives your place a simple, classic and rustic look. The different sized and styled shelves and open cabins not only serve the decor purpose but also giving you a variety of functions. Place your goods and decoration pieces with ease.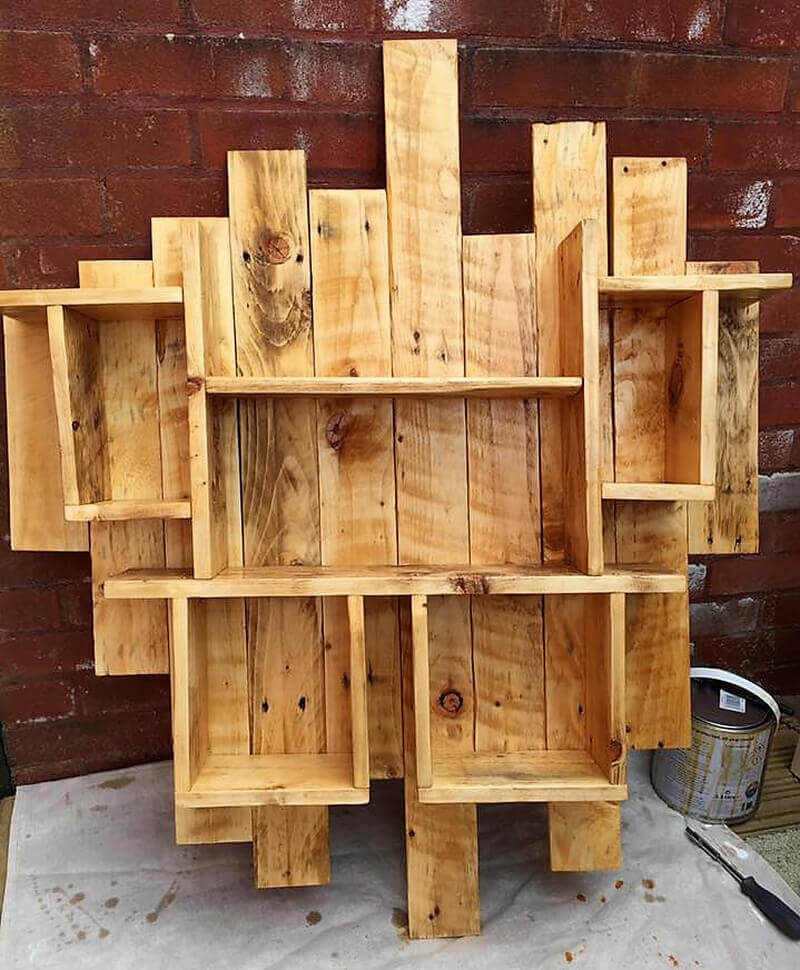 Here is a romantic idea for you from up-cycled rough wood pallets. Cut your pallet woods into a cupid shape to express your passionate and intimate feelings for your loved one. Writing down on these cupids made of retired pallets can intensify your message to your soulmate.
Is there any better idea of utilizing your space to more effect ? This re-transformed bunk bed is such a wonderful thing to have in your space constraint room. The ground section is equipped with number of drawers and cabins and stairs are also giving the whole furniture a different look.

Different shades of wood pallets are fixed in a random manner to create your desired pastern in this artistic reused wood pallet sliding door plan.  A roller is attached to the top of the door and supporting all of the weight of the door. A big fine handle is perfectly complementing the overall plain background.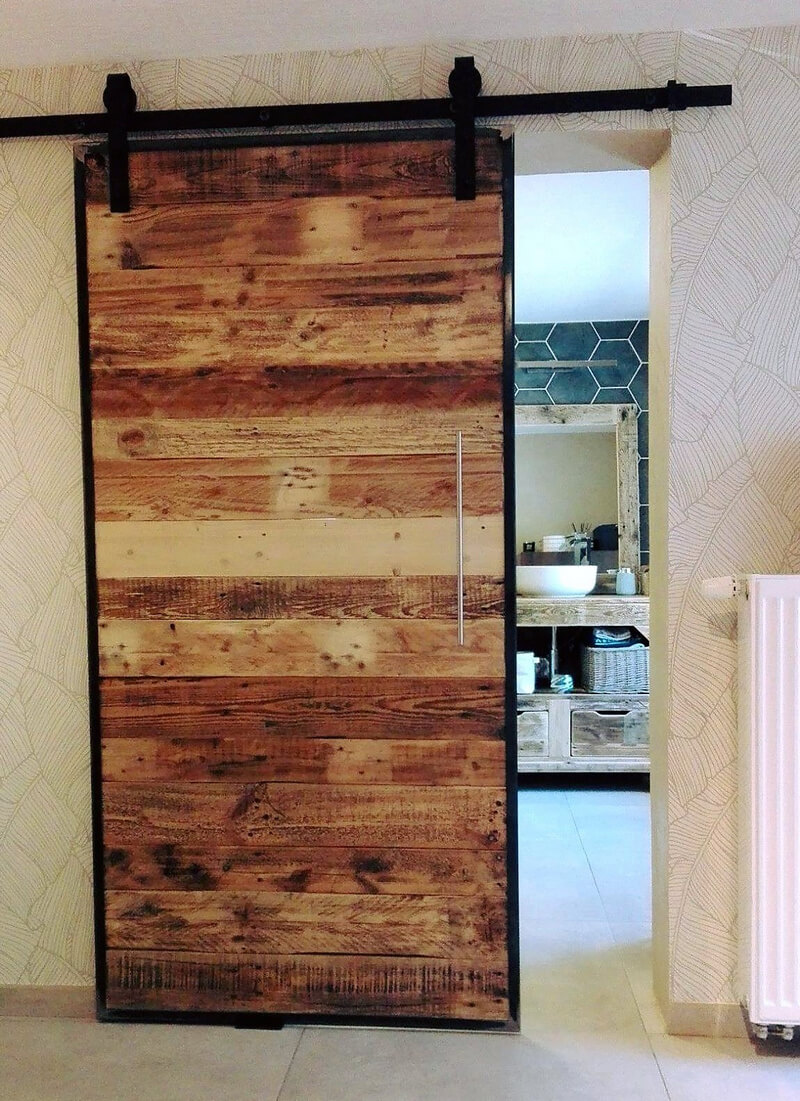 Greet your friends and family with a natural stuff by crafting a outdoor furniture after reusing the old wood pallets. Two benches and a table is a complete set to host 8 persons. You are at liberty to give your garden a different look by shifting the furniture to your location.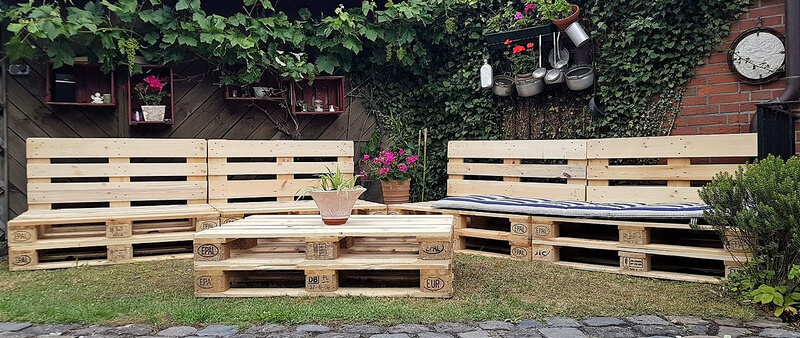 This simple but classic recycled wood pallet bar is giving enough space to accommodate sufficient number of your beverages and glasses. The wider table top is adding to its utility along with cabinet for your storage solutions. Craft one for your home and enjoy the party.