Reclaimed Wooden Pallets TV Multimedia Stand
The wood pallets can be shaped into every furniture piece and it looks amazing just like made by the professionals, the best thing about the pallets is that there is no necessity of painting them. They look nice without paint, which saves the time as well as money. It is a unique idea of placing the furniture made up of wood pallets in home, which is followed by not many homeowners. Those who choose to create furniture with their own hands are wise that they save money as well as impress the guests by the creation of inspiring furniture. Here we have the idea of making a TV multimedia stand with shipping pallets:
Let us start with the overall look of the reclaimed wood pallet TV multimedia stand, the hollow space allows placing the DVD players and the other items linked to the TV. Other items like the books can also be placed in the hollow space.

It is a good idea for those who don't like the idea of attaching the TV to the wall; they can copy this idea and create a multimedia TV stand to place the TV on it. The idea is simple, which doesn't require too much effort for copying.

Here you can see the side view of the upcycled wood pallet TV multimedia stand; it can be created with a few pallets. The pallets can be painted if a person wants to match the shade with the wall paint.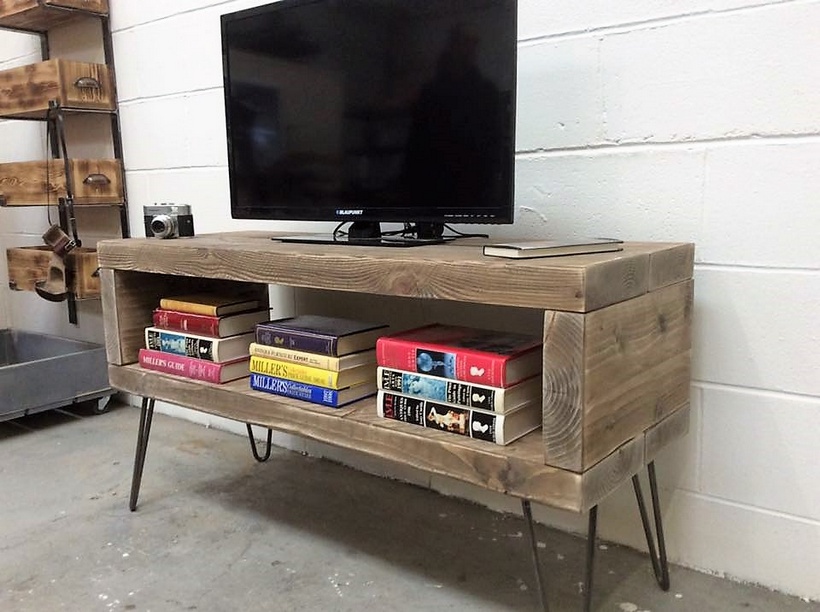 It can be created in any size according to the requirement; there is enough space to place the decorative items on the sides of the TV multimedia stand. It is a god idea to adorn the stand by placing antique pieces on it. This simple idea doesn't require much time to be copied and it looks unique, which saves money as well.

Created & Shared by: Wood Junki